Via: Plano Star Courier
By: Kelsey Samuels
The Texas Women's Foundation revealed in a recent study that, though women in Collin County earn more than women in neighboring counties, women are still not making as much as men.
According to the study, Collin County women's median earnings are $51,709 compared to Dallas County ($38,782), Denton County ($47,388) and the state and national average of $40,000. And though Collin is outpacing neighboring counties in earning, it's lagging behind Dallas and Denton for equity in wages. Collin women make 70.8 percent to overall men's earnings, compared to Dallas women who make 94.9 percent.
Asian/Pacific Islander women have the highest earnings of all demographics in Collin County with $66,385 annually, about 80 percent of a white man's earnings. However, Hispanic women have the lowest earnings – $33,094 – and 39.9 percent of a white man's earnings, according to the study.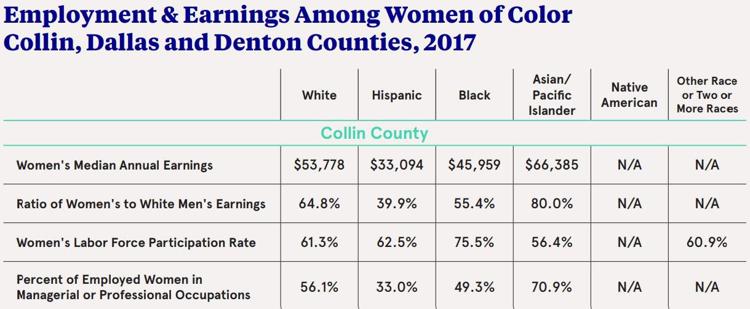 The study also found across Denton, Collin and Dallas counties,  Hispanic women earn the least and are least likely to be hired for managerial or professional jobs, which require a four-year degree but offer higher wages and more employee benefits like health insurance.
"Texas women have made great strides over the last several decades by increasing their education and taking more leadership roles in the business world. But even with significant educational and economic gains, there are still gaps," the report states. "This data is just the first step but helps set a foundation for programs and projects that will have the greatest impact to build stronger communities."

Though the report shows Collin County women make 70.8 percent of a man's earnings, ALTA Travel, a 39-year travel company led by CEO Tammy McSwain, touts itself as a equitable place of employment that treats its employees as family. The travel industry is a female-dominated field, McSwain said, with many women as leaders and heads of companies across hotels, airlines and the hospitality industry.
McSwain said her mother started the company in 1980, and since its inception, it has always had family in the company culture.
Today, ALTA Travel has a 28-person team – mostly women – and from the top down, she's prioritized fairness in pay and valuing all employees equally.
"We work together. We wouldn't be where we are if weren't a team," she said. Yes, she signs the checks, "but I still value you as my equal. I think, as a general statement, the female perspective – we've always had that. It's always been very fair, in that you see everything equal. I think that's something that's also ingrained in you."
ALTA Travel also allows employees to prioritize both family and work without having to compromise one for the other.
"I don't care if you're a mom or a dad in today's world, you need to be at the birthday lunch in the cafeteria for your 5-year-old. You need to be at the gymnastics recital even though it's at 2 o'clock in the afternoon. You need to go to parent teacher conferences," she said. "It's important. And it can wait an hour or it can wait until tomorrow. Nothing is more important than that."
According to the study, "If working women in Texas were paid the same as comparable men, their average annual earnings increase would be $7,300, and their poverty rate would be reduced by 51 percent."